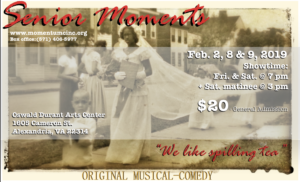 Senior Moments, the musical was originally workshopped in 2014 in Alexandria, VA. Written and directed by MC Inc. Executive Director, Jason Ellis, this production is based on actual interviews of senior citizens at one of the city's senior centers. It celebrates the rich African American history in Alexandria and fittingly will be back on stage during Black History month.
When 4 senior citizens get together to share about their life experiences growing up in Alexandria, VA there is a lot to laugh about and a lot to learn.
This re-mount is a significant new piece of artistic work. It features additional music, a 30% script re-write, and improved production elements. Audience members are guaranteed to have a fantastic experience and will leave not just entertained but educated.
Senior Moments, runs for  5 performances over 2 weekends. Proceeds support the Out of School Time Arts program through the city of Alexandria's Department of Recreation Parks and Cultural Activities, and the overall mission of Momentum Collective Inc.  – www.momentumcinc.org